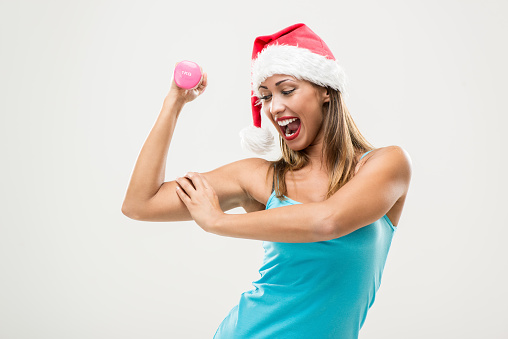 Christmas is a time traditionally given to overindulgence with Christmas drinks, end-of-year farewells, office parties and family get-together filling up our December calendar. It's a time to connect with family and friends and then there's abundant food be it finger foods, buffets or those deadly Christmas food gifts like chocolate Santa's and Rocky Road. Find out 10 health tips this Christmas Season:
Cut down your own Christmas tree
Visit a tree farm which allows you to cut down the Christmas tree. This will be fresher and less expensive and you'll burn off calories.
Limit the pig outs!
Keep those wildly overindulgent days to minimum- the day you finish up at work, Christmas Day and New Year's Eve. One or two day's overeating won't be bad but a month of festive feeding will pile on the kilos.
Stay hydrated
On the day of a big night out, and the day after, make conscious effort to drink 6-8 glasses of water, diluted juice or plenty of herbal teas. Even mild dehydration can lead to a headache and combined with the diuretic effects of alcohol makes maintaining your fluid intake so important. Sometimes, you may struggle to drink enough when it's cold, so take a full glass of water to bed at night and start the day with a second.
No more hangovers
Don't be tempted to skip meals so that you can stockpile calories for drinking. Alcohol only supplies empty calories, so skipping proper meals to compensate for a booze signifies that you're losing out on valuable nutrients, that your body needs for detoxification. Stick to one type of drink- make it a lighter-colored as they have low chemical by-products which can worsen a hangover.
Indulge in only the most special holiday treats.
Avoid the store-bought cookies at Christmas, but save some calories in your 'budget' to sample treats which are homemade and special to your family. Train yourself in what to indulge in and what to skip.
Be selective
Eat, drink and be wary at those Christmas feasts. Survey the starters, hams, side dishes, breads, pavlovas, turkeys and Christmas puddings. Decide what you must have absolutely and what you can skip.
What to eat the next morning
The best 'morning after' breakfast is a frittata or omelette packed with veg. If you can't face a cooked breakfast then have a smoothie made with fruits like kiwis, bananas, or oranges which are rich in potassium.
Back away from the buffet
Buffets can be a disaster zone – ensure to fill half the plate with salad and vegetables, and the rest with protein-based canapés like salmon and chicken. Take your time selecting and eating food and move away from the table as soon as your plate is full to avoid non-stop grazing.
Sensible snacking
If you're hungry when you arrive at a party, then have a pre-party snack- peanut butter and banana on toast, Indian chickpea and vegetable soup and Italian vegetable soup.
Stock the freezer with healthy meals
Everyone's overly busy during the holidays with shopping, decorating, or seeing friends and family that leaves less time to cook healthy meals. Take defensive action several weeks ahead of time by cooking meals intended specifically for the freezer. You can thank us later when you pop one of the meals into the microwave and could turn your attention to other things.
Conclusion
Don't skip meals-it's the balance of your diet that's important. Apply the 80:20 principles – eating healthily 80% of the time, to allow the space for delicious treats at weekends and on special occasions like Christmas season.